The second phase of the project «Developing the Teaching of European Languages: Modernising Language Teaching through the development of blended Masters Programmes»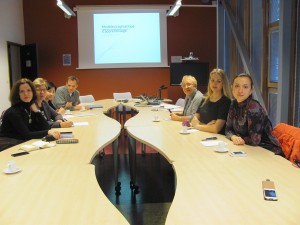 At the end of October — early November 2014 European partner institutions held training seminars for the participants of the Tempus project. These training seminars were attended by Associate Professor of the English Philology department Elena Chaika at Aston University (Birmingham, UK), Professor Natalia Fenenko and Lecturer of the French Philology department Svetlana Bulgakova at Universite de Caen (Basse-Normandie, France), and Associate Professor of the English Philology department Olga Ivashenko at Freiburg University of Education (Germany).
During the seminars the participants discussed the structure of the master's programme, determined the content of its modules and the basic principles of teaching languages with the use of Moodle virtual learning environment and Web 2.0 technologies.