Aston University, Birmingham, UK
Associate Professor of the English Philology department Elena Chaika
04.06.2014 – 16.06.2014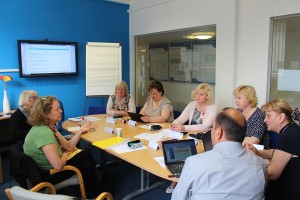 The purpose of the training was to get information about the methods, techniques and technologies used in teaching modern European languages in various types of educational institutions of the UK, as well as the new information technologies used in education, and to discuss the possibilities of designing the master's programme to train language teachers with the participants of the project.
The training was supervised by of the Director of Postgraduate Programmes in English of Aston University, Senior Lecturer in Applied Linguistics (TESOL) Dr. Sue Garton. The programme consisted of the following:
observing language classes in state secondary schools, private language schools and language centres and at Aston University;
participating in analysis and discussion sessions with teachers and administrators of the educational institutions;
taking part in seminars and workshops in order to compare and contrast the methods, techniques and technologies used in teaching modern European languages in the educational institutions of the UK and the countries participating in the project;
making presentations of the data and materials on the specifics of the system of training language teachers in the countries participating in the project;
taking part in cultural activities (meeting with the Lord-Mayor of Birmingham, excursions, trips, visits to exhibitions and performances).
The Project participants got the opportunity to observe the English classes at the Brasshouse language centre and also the integrated French and geography lessons at Bordesley Green Girls' School and Sixth Form (Birmingham). They were shown how children learn English, French, Spanish, and Latin in Sidney Stringer Academy in Coventry and had a talk with the teachers of the Academy. The Vice-Principal of Sidney Stringer Gemma Riley gave a lecture on the system of secondary education and language teaching in the UK. The Project participants also visited the English language classes at Aston University and took part in the workshops held by Dr. Susan Garton, Dr. Muna Morris-Adams and Dr. Fiona Copland at the Department of Linguistics. David Pollard, the system administrator of the Aston University Information Centre, held a master class on the use of modern information and communication technologies (information resources of the University, the BlackBoard platform, blogs, wikis, interactive whiteboard, etc). The project participants made presentations on the language training systems in their countries (Russia, Ukraine, Uzbekistan) and shared their views. They also discussed the work plan of the project for the second half of 2014 and for the next training session in October 2014.