Presentation of the project 544161-TEMPUS-1-2013-1-UK-TEMPUS-JPCR
Aston University
«Improving the teaching of European languages through the introduction of on-line technologies in teacher training»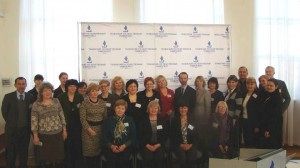 Dean of the faculty of Romance and Germanic Philology Prof. Natalia Fenenko and Associate Professor of the English philology department Elena Chaika took part in the opening ceremony of the Tempus project and first coordination meeting held at Tyumen State University.
The project presentation was attended by representatives of all the members of the consortium. The programme included presentations by the partner universities, a round table talk «Problems of language teachers in the European, national and regional context», a workshop for the partners of the Tempus project, and meetings with representatives of various institutions and faculties of Tyumen State University.