On November 24th, 2015 a video conference with the European partners from Aston University (Birmingham, UK) was held in the computer lab of the Faculty of Romance and Germanic Philology of Voronezh State University.
On behalf of the European colleagues, the participants of the online meeting were the chief coordinator of the project TEMPUS 544161-TEMPUS-1-2013-1-UK-TEMPUS-JPCR Aston University «Developing the Teaching of European Languages: Modernising Language Teaching through the development of blended Master Programmes», Director of postgraduate programmes in English and a leading lecturer in Applied Linguistics at Aston University (Birmingham, UK) Dr Susan Garton, the Programme Director of the Aston on-campus MA in TESOL Studies, the Tempus DeTELproject consultant of the module «Technology in Languages Teaching» Dr. Nur Kurtoglu-Hooton, and the Aston Course Director for the Certificate in Advanced Studies in ELT (distance learning for experienced teachers), the Tempus DeTEL project consultant of the module «Language Teaching Methodology» Dr. Muna Morris-Adams.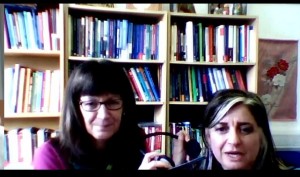 Representing VSU, the participants of the videoconference were the head of the Master's programme «Teaching foreign languages with the use of online technologies», Professor Natalia Fenenko, the Associate Professor of the English Philology department Elena Chaika, the Associate Professor of the French Philology department Svetlana Bulgakova, and the master's students. During the meeting, the students asked the European colleagues questions about the features of language teaching with online technologies and the use of ICT in classroom practice in the United Kingdom, as well as about the opportunities for further cooperation between VSU and Aston University as a continuation of the Tempus project.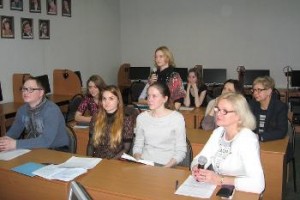 Dr. S. Garton noted that the possibility of continuing cooperation is seen in the framework of the European programme Erasmus+. The European partners also shared their experiences on the implementation of the project results in the partner universities in Russia, Ukraine, and Uzbekistan, where they conducted co-teaching together with colleagues from the working groups. They appreciated their teaching experience and its first results, as well as the students' abilaties and motivation. Dr. N. Kurtoglu-Hooton looks forward to fruitful work with the 1st year master's students of VSU where she is expected to arrive in the spring of 2016.